Skip Navigation
Website Accessibility
Welcome to
Crazy Quilter Retreat Center and Store
Hold your next retreat at the Crazy Quilter Retreat Center in Lind, WA. Lind is "in the middle of nowhere, but on the way to everywhere!"
Our retreat center is located in a former (and completely remodeled) church building with plenty of room for up to 20 guests. Our sturdy quilting tables were custom built with the quilter in mind. Each is equipped with all the power you will need. Comfortable ergonomic chairs, bright LED lighting, and an open workspace with 35-foot thigh ceilings create the ultimate quilting space.
Our spa with a hot tub, sauna, steam shower, massage table, exercise equipment (Zaaz and Chi machines), hair salon and big screen TV is just steps away.
The Crazy Quilting Store is located just one block away. During your retreat, all supplies from the store will be 10% off. Our Innova Longarm Quilting Machine is also available for rental during your retreat at $1.25 per square foot. ($1.50 per sq ft for a private appointment other times)
When you are not quilting or relaxing in the spa, enjoy a comfortable chair in our library with hundreds of quilting books to inspire and inform.
Hungry? We have several meal plans available from full service catering to "bring and cook your own". We have a large dining area with all the things you need. We also have a commercial kitchen in town so we can offer our own delightful meals.
See our commercial kitchen here.
Schedule your next retreat today! View our calendar and give us a call at (509) 677-3335. All you need is a $100 deposit to secure your desired dates.
Professional spa services are available with an appointment, including massage, hair and nail treatments. Add some fun memories to your retreat - ask about our PHOTO BOOTH.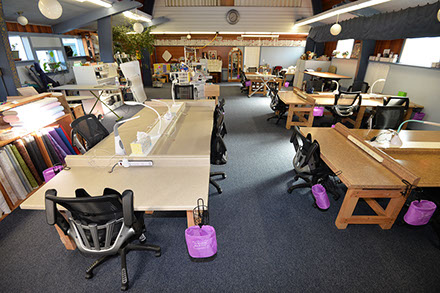 Your Stay With Us
We can comfortably accommodate up to 20 guests. Alternative sleeping arrangements can be made for additional guests but may involve the Quilting Library's queen size "hide a bed", sharing a full-size bed or a mattress on the floor.
We have no minimum guest requirement, however, if your group is 5 or smaller, we would appreciate your willingness to share common space with another small group should the situation arise.
The bedrooms are spaced with two at one end and two at the other end, and the workstations can be split up pretty easily for two groups. You would mainly be sharing space at mealtimes, in the spa room and the upstairs common room. Before booking concurrently with another group we would contact you for your agreement.
Financial Details
Rates: $40 per person per night with a minimum stay of 2 nights (total minimum charge $80 per person). After the first two nights, the rate goes down to $35 per night.
Deposit: A deposit of $100 per group is needed to reserve dates.
Cancellation Policy: If a cancellation is requested a $25 non-refundable fee will be charged. If you reschedule there is no fee, unless, it is requested within one month of the arrival date there is a $10 fee.
Payment: We will keep track of all your purchases during your stay and make one payment per person prior to checkout.
Check-in/out: Check-in is at 10 am on the day of arrival. Check-out is prior to 5 pm on the day of departure.
Humanitarian requests: If there is a hardship situation, please contact PJ directly at 509-677-3335 to discuss ways to reduce charges.
Amenities
Bedroom for up to 20 guests.
Sewing area with custom-built, correct height tables, ergonomic adjustable chairs, bright LED lighting and plenty of electrical power.
Quilting Book Library with hundreds of titles for you to enjoy!
Spa room with a 7-person hot tub, 4-person infrared sauna, 65" TV, steam shower, massage table, hair salon, and exercise equipment
Common Room with 84" 4K TV, movies, karaoke, games (classic and the latest), X-Box, Wii, 3D virtual reality adventures and more.
Dining Area with two large tables, breakfast bar, designated refrigerator for retreaters.
Three retreat bathrooms, two with a steam shower.
Large Kitchen with two double sinks, two ovens, two toaster ovens, filtered water and ice maker, tools and kitchen gadgets including:
Dishes, cups and glasses, mugs, wine stems, ice cream scoop, corkscrew, veggie peeler, pizza pans and cutters, cheese grater, can and bottle opener, egg slicer, measuring cups and spoons, cutting boards, garlic press, serving bowls, all sizes pots and pans, cookie sheets, muffin tins, cake pans, pitchers, refrigerator with freezer, gluten-free and regular toasters, instant boiling water, Blendtec blender, two large crock pots, three small crock pots, regular coffee machine, new Keurig Duo for pots or pods, dessert bullet, yogurt maker, NuWave oven, Braun wand blender, Tupperware food processor, whipped cream maker, mandolin, Kitchen-Aid mixer, two instant cook pots, rice cooker, electric skillet, two large electric griddles, cassadia maker, sandwich maker, and more..
We do not have a microwave. Quick warming of small quantities of food can be done right on the ceramic plates in the toaster ovens.
Room and Sleeping Arrangements
For single group retreats, you are on your own to figure out the sleeping arrangements. You can use the list below to get a feel for how the bedrooms are arranged. The red and green rooms are at the far end of the great room and the leaf & copper rooms are at the other end (and closest to the bathroom). There is also a bedroom on the main floor. Please be mindful of those who have difficulty climbing stairs. We do have a stairlift if the downstairs bedroom cannot accommodate all those who have difficulty with stairs. Please note that three of the rooms include bunk beds that are only accessible by climbing a ladder
---
Hosted Retreats
Some retreats may be formed around a specific theme or teacher where anyone and everyone is welcome. For those retreats, the first to register get the first choice of beds. If you are choosing the King or Queen beds, put a note to the side as to the person who will be sharing that bed with you. Let us know who you would like in each room and we will accommodate your selections as best as possible.
Rooms
The Green Room
- can sleep up to 5 people as follows:
One (1) single bed
One (1) upper bunk single bed
One (1) lower bunk single bed
Two (2) in a king-sized bed

The Red Room - can sleep up to 5 people as follows:
One (1) single bed
One (1) upper bunk single bed
One (1) lower bunk single bed
Two (2) in a king-sized bed
The Leaf Room
- can sleep up to four people as follows:
Two (2) share a queen size bed
Two (2) single beds
The Copper Room
- can sleep up to 3 people as follows:
One (1) full bed
One (1) single upper bunk
One (1) lower full bunk
Main Floor Room

Two (2) single beds
One (1) full size bed
We also have a hide-a-bed in the library and mattresses that can be pulled out from beneath some beds to create additional sleeping arrangements if necessary.